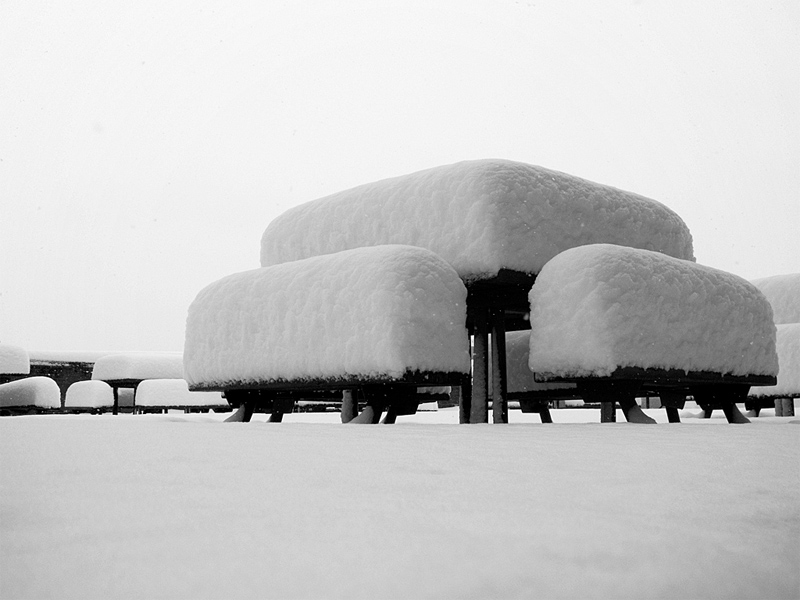 New Jersey: land of extremes. Case in point: the weather. Blizzards in the winter, 100 degree heat waves in the summer... it's the best of both worlds. Little taste of everything.

This photo is from the most recent major blizzard in February of this year, in the town of Ewing, at The College of New Jersey. Snow is one of those things that many people either love or hate, for whatever their reasons, but the thing I most appreciate about it is its ability to completely transform landscapes. It can make you totally reevaluate and see again once-familiar environments. And there's nothing quite like exploring a landscape of freshly fallen, untouched snow right after a major storm. I found these simple benches to be quite amusing, with their bread loaf-like mounds piled high, and completely pristine.

Yea, that was quite a bit of snow...

Justin's Comments:

Brian is a good friend of mine, and I'm happy that he has taken part in this project. The day that this photo was taken, I actually remember running into Brian on campus, we were the only two fools wandering around with cameras in almost 2 feet of snow.
Camera: Camera Model: Canon PowerShot G6
Focal length: Focal: 8 mm
Aperture: Aperture: f 3.2
Exposure time: Exposure: 1/1250 sec
ISO: 50
Capture date: Capture Date: 2006:02:12 02:11:08